Sujatha Degree College for Women ( Hyderabad )
The faculty has impressive educational background and teaching experience. The success of the college lies in its tremendous accessibility and commitment to teaching. The staff, apart from teaching, also engage the students in various activities, which helps them to express their thoughts and opinions. This helps the overall development of the students.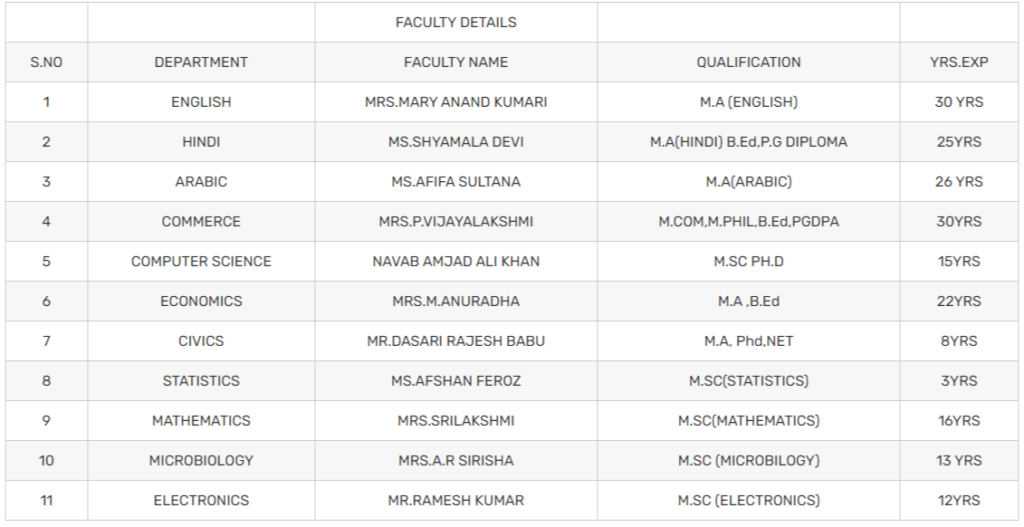 | | | | | |
| --- | --- | --- | --- | --- |
| | | FACULTY DETAILS | | |
| S.NO | DEPARTMENT | FACULTY NAME | QUALIFICATION | YRS.EXP |
| 1 | ENGLISH | MRS.MARY ANAND KUMARI | M.A (ENGLISH) | 30 YRS |
| 2 | HINDI | MS.SHYAMALA DEVI | M.A(HINDI) B.Ed,P.G DIPLOMA | 25YRS |
| 3 | ARABIC | MS.AFIFA SULTANA | M.A(ARABIC) | 26 YRS |
| 4 | COMMERCE | MRS.P.VIJAYALAKSHMI | M.COM,M.PHIL,B.Ed,PGDPA | 30YRS |
| 5 | COMPUTER SCIENCE | NAVAB AMJAD ALI KHAN | M.SC PH.D | 15YRS |
| 6 | ECONOMICS | MRS.M.ANURADHA | M.A ,B.Ed | 22YRS |
| 7 | CIVICS | MR.DASARI RAJESH BABU | M.A, Phd,NET | 8YRS |
| 8 | STATISTICS | MS.AFSHAN FEROZ | M.SC(STATISTICS) | 3YRS |
| 9 | MATHEMATICS | MRS.SRILAKSHMI | M.SC(MATHEMATICS) | 16YRS |
| 10 | MICROBIOLOGY | MRS.A.R SIRISHA | M.SC (MICROBILOGY) | 13 YRS |
| 11 | ELECTRONICS | MR.RAMESH KUMAR | M.SC (ELECTRONICS) | 12YRS |
What Our Faculty Says
I have been associated with this college for the past one year. My time here has only made me feel proud of my choice to have been associated with Sujatha Inter and Degree College as the college provides an excellent environment for learning and growth. The effort, enthusiasm and resilience with which the teaching-learning process takes place in this institution is nonparallel. The management has always led the college towards a holistic education. My overall experience has been very motivating. The whole Sujatha family, including our students, has displayed boundless energy and commitment in the path of achieving their goals to build a value-based and erudite society through a means of sensitive learning, humility and critical thinking.
Mrs. Ankita B. Gadhaiya , Department : English
I Mrs Mary Anand Kumari (HOD of Dept of English) would like to say few words, Its gives me immense pleasure to be a part of Sujatha College for the past 27 years. Our college is dedicated for imparting best knowledge and education to student community, "Education is the most powerful weapon we can use to change the world" –Nelson Mandela
Mrs. Mary Anand Kumari, Department : English
Sujatha college is one of the trusted and top most college in education. They believe in the saying that" If a women is educated, one generation is educated." This belief and determination to serve the society made the college evolve into a complete one with all possible conventional courses, added year after year at undergraduate and Post graduate level.
The college has the distinction of excelling in academics and extra circular activities. Sujatha Group of institutions always stood ahead in promoting the job oriented quality education to the women in tune with changing scenario to compete with their counter parts in all spheres. I had a great time as a student during my college days and now iam working as a faculty and i got this opportunity from our Principal Madam. Iam very thankful to her.
The constant support, encouragement, guidance and motivation comes from our Principal Madam to the staff and students.
Mrs. Keerthi Bhavani ,  Department : Electronics